Well! Kayaking is indeed a very healthy and enjoyable hobby, which makes you develop a connection with nature, and you can enjoy yourself by feeling the cool breeze of the open seas. However, you cannot do it without a kayak, right?
So, what is a kayak? A Kayak is a small but narrow watercraft that is usually propelled through a doubled bladed paddle. The conventional kayak has a sheltered deck and mostly a couple of cockpits.
Each of the seat has a paddler in front. If you have a yak and you do not need to use it in the near future, it is time to store them properly.
Well! Now, if you do not know much about the storage options, do not fret! Yes! All you have to do is to keep reading, and we will enlighten you about the available options when it comes to cleaning, washing, polishing, and storing kayaks.
How to clean, wash, and polish kayak before storing?
---
You need to clean, wash, and polish, our "Carbon Kevlar" or "Polythene sit on tops" kayak before storing. You may take time to figure out which method works the best.
In order to protect your kayaks from damaging, acid rain damage, staining, scratches, and gel coat cracks, it is essential to clean, wash, and polish periodically.
It not only protects and preserves your investment but keeps your boat sleek and new. You may opt for a new one or maintain your old one. Keep reading to know how to maintain your kayak.
Cleaning, washing, and drying the kayak:
Due to frequent use, mud, sand, salt, and algae gather on the outside and inside of your kayak. This filth has a very dull effect on its finishing, so it is better to clean it after using it. Temporarily, you can clean it with the garden hose and spray water and let it dry.
Alternatively, if you want to clean and store it for a longer time, you should wash it with water and mild soap outside the hull and also inside the cockpit, to get rid of the dirt.
Firstly, you will remove the seat and the other soft fabrics inside and store them separately. It can be alluring for you to bring it out from the water.
So you should wash it immediately with soapy water. Yes, you need to be quick here so that the soapy water gets its way out. Failing this, the water will stay there and may damage your yak.
Make sure that you are rinsing your yak with clean water, enabling the soapy water to come out. Dry your yak entirely before storing, because if it's not the humidity can cause fungus to accumulate, which can damage your kayak. Now you have washed your yak thoroughly.
Polishing the kayak:
For maintaining its condition, the next step is to wax and polish your kayak. You may go for 3M Cleaner as it works the best if you use it with a damp cloth.
You may start by polishing either the deck or the hull. Start applying the product in circular motion evenly up and down the kayak using a reasonable amount.
If you apply the product in a circular motion, it will be beneficial. Be sure that when you are applying the polish on the deck, avoid lifting up the deck fittings, but the deck lines should be lifted appropriately.
While doing this process, it might leave the white residue, which can come out at any time so, make sure that you wipe clean it too.
Now let it dry. As a next step, polish it away with the microfiber and remove the excess amount of wax film, which may have stayed there.
How to store kayak outside?
---
Before you decide where you want to store your yak, you should have know how about its dimensions. This will help you determine whether it is possible to keep it inside or outside, depending on the availability of space you have. So, you should measure the space before you plan to store your yak.
If you don't have enough space anywhere inside, you may store it outside. Also, consider the weather conditions that might damage your kayak.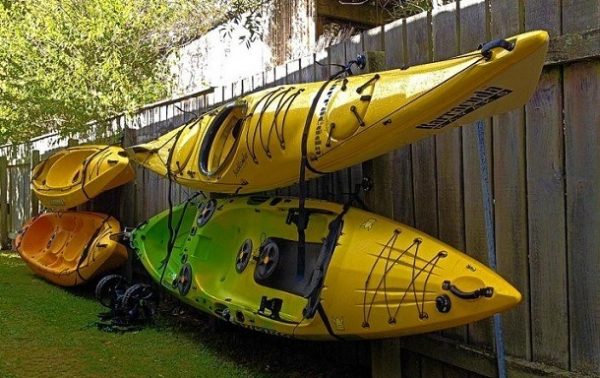 Firstly, try to manage enough space for your yak. A shaded area should be your priority for this purpose, like a tarpaulin.
Another option is of waterproof and UV resistant covers, made typically for yaks. Covering your cockpits with these types of covers can be helpful to save them under bad weather.
Besides, it protects your yak from dust, sand, animals, and insects that might have found shelter in your yak.
Secondly, you need to keep in mind the factor of moisture also. It will be better protected if you use a tarp and cover your vessel with it like a tent. By doing so, the rain will be slipped off and cannot remain at the top of the yak.
On the other hand, if you cover the yak with the tarp directly, it can cause the creation of fungus or mold on the hull due to the moisture in the absence of fresh air.
Yes, if you want to keep your yak safe and sound for an extended time, you need to be mindful of all the precautionary measures.
How to store kayak in the garage?
---
If you have a garage in your home, it will be the best option for storing your kayak. It will not only protect your yaks from every kind of damage but also reduce the chance of theft.
Well! When it comes to options of storing your yak in a garage, you can choose from the following two types of shelves.
Types of Kayak racks:
This is the best option if you have enough space indoors. You can easily adjust two or three kayaks in a wall-mounted rack at an angle while the free-standing racks can protect up to six in number. One great benefit of having these racks is that you buy one that is helpful to hold several kayaks.
Wall-mounted:
Before storing the yaks, determine the height at which you need to keep them. The higher mounted racks will permit you to store the things in the lower portion also.
But it will be hard to dismount them if needed. On the other hand, the racks at lower heights allow the overhead storage and are also approachable in emergency cases.
Suspended:
We can also hang kayak to the ceilings, which is the best space-efficient option. Yes, you can even lift and lower the kayaks with the help of pulleys if you want to store them in the garage.
For this purpose, you can also buy the sling, which is very helpful in supporting the middle part of the kayaks to avoid stress.
Well! You may even go for a heavy-duty ceiling mount. Although this option is a bit expensive, it is long-lasting. The suspended racks for yaks come in handy as they save you the floor space, and you are better able to adjust the rest of the settings of your furniture in the room.
How to store kayak in the apartment?
---
Well, if you are thinking of storing your yak safe and sound indoors, you may keep them inside your apartment too. There are different environmental factors and the risk of being stolen associated with the outdoor options.
So, you might try to manage to keep them inside your apartment. Yes, you may store your yak in the following ways:
1. First of all, clean your kayaks very carefully to store them in the apartment areas. You can hang them on the walls of any room of the apartment.
2. You may also store your yaks in the balcony of your apartment.
3. If you do not have enough space inside your apartment, you may also ask a friend to keep them safe in their apartment.
4. You may make arrange the items; you have in your storage room to adjust your yaks in the storeroom.
How to store kayak vertically?
---
Yes! You can also store your yaks in the vertical position, especially if you are short of space. Bear in mind that you need to have vertical space, which means that the ceiling of the room should be high enough to accommodate the yaks.
Besides, when you store them vertically, there is a significant weight on the stern to bear, so you should add padding under it.
Make sure, the shell of the yak is leaning opposite to the wall, while the cockpit is facing outward. If you have pegs near the top of your cockpit, this will helpfully prevent the kayak from fall sideways.
However, it is not a must. Besides, you need to have support for the stern to raise it.
Storing the kayaks vertically is preferred because when you want to support the stern above the ground level. This method helps prevent it from bad weather and ground animals like squirrels to take shelter in it.
You can also build an angle in the shape of A. Yes; this position will enable the beams to stand in a vertical direction against the wall. The kayaks are then supported by the horizontal beam to hold them.
If you want more support, you may add multiple beams. The beams will let you keep a lot of yaks in one place without any fear of damage or breakage.
In the final step, cover both the sides of the kayak from outside and inside with the tarp. You should make sure that your kayak is protected by the cover and the cabin also.
The covers and the tarp keep away the dust, and you can reuse your kayak whenever you want.
Conclusion:
---
So, here is what you needed to know about the options you have about the cleaning, polishing, and then storing your yak. Yes! Now you can keep your yaks safe and secure anywhere you want.
You may opt for a suitable option according to your preferences and the available space. All you have to do is to follow the instructions, and you will be able to protect your yaks whenever you are not using them. Keep them safe and enjoy kayaking.